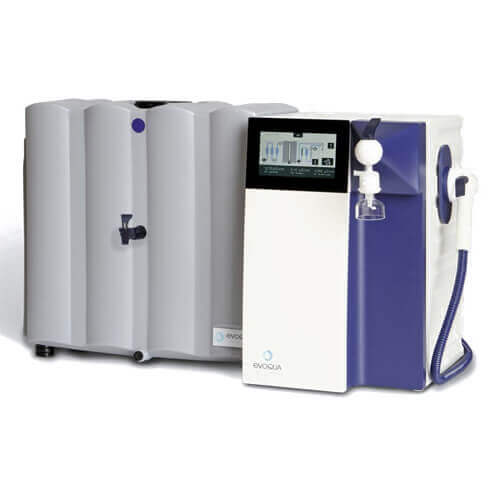 AQUAANALITIC presented a new lab water purification system
New in Turkey! Advanced reverse osmosis water treatment system – Evoqua
For the first time in Turkey, at the stand of the company "AQUAANALITIC" at the Pharmtech & Ingredients exhibition, a solution in the field of advanced laboratory water treatment systems was presented from the leading German manufacturer, Evoqua Water Technologies.

The Ultra Clear TP TWF system is an installation for obtaining analytical grade water from tap water. The quality of the produced water of the first type exceeds all quality standards, including: ASTM Type I, SLCI and ISO 3696 Type I. This system is the best solution for producing water that meets all quality requirements and is suitable for laboratory use at the lowest cost. The functionality of the system is not available to most manufacturers of similar products.
The 7 ″ color touch screen, which in turn is the largest among similar systems, provides detailed information about the operation of the device, simultaneously informing the user about such indicators as electrical conductivity, resistance, temperature and the level of total organic carbon, after each cleaning step. All this allows you to fully control the process, as well as quickly and easily set the necessary settings. A simple, intuitive interface will please the most demanding user. And, which is very important, to monitor the performance of each module of the system, which allows timely replacement of certain components, rather than the entire cleaning unit. Moreover, the process of replacing one or another module is very simple, and does not require the involvement of a service engineer, which is a strong advantage of the system over similar ones on the market of Turkey and the CIS countries.
On April 23–26, 2019 in Moscow, the Crocus Expo exhibition center will host the 17th International Exhibition of Laboratory Equipment and Chemical Reagents Analytics EXPO. The Evoqua Ultra Clear TP TWF ultrafiltration systems for water treatment will also be presented at the exhibition.