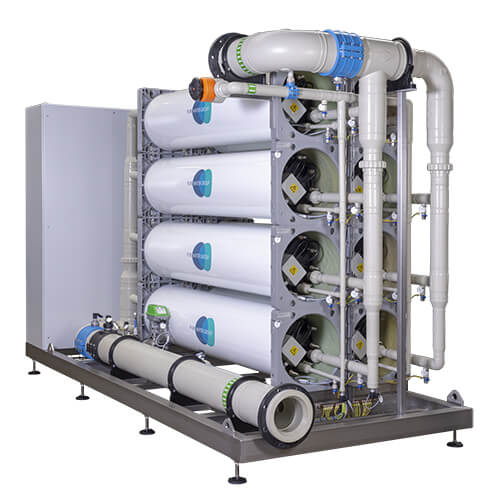 Pure Water Group® offers a solution for the modular use of electrodeionization
Industrial water purifier – Pure Water Group®
Pure Water Group® (Netherlands) offers a profitable, modern, ready-made modular solution for the application of electrodeionization. 
AQUAANALITIC Company is a general supplier of plug-and-play modular electrodeionization complexes Ukraine, Kazakhstan, and Belarus from Pure Water Group®.
More details: https://aquaanalytic-tr.com/en/catalog/industrial-water-treatment-systems/
Unlike traditional ion exchange resin systems, Ionpure® Evoqua® EDI cells do not require chemical regeneration. All models of EDI modules provide ultrapure water production systems operate in an electro-regeneration mode where resins are continuously regenerated by H + and OH- ions released during the electrical dissociation of water molecules.
More about Ionpure®: https://www.evoqua.com/en/brands/IonPure/
Our EDI Pure Water Group® (Ionpure®) modules are compatible with any brand of reverse osmosis lab system. Combined with the standard plug-and-play design, this means that they can be quickly and easily connected to any new or existing reverse osmosis laboratory equipment.
You can always be sure that all of our pre-engineered EDI equipment has been thoroughly tested in a wet workshop in accordance with standard FAT procedures.
Impeccable engineering architecture, the quality of the used control / controlled electronic components and automation will pleasantly surprise and exceed all your expectations, since this set of integrations is not available to most manufacturers.
The Pure Water Group® uses more than 20 years of experience in EDI electrodionization designing, constructing and supplying EDI systems around the world and takes the best from this technology, continuously improving. Our EDI systems can remove salt up to 99.9%, reduce individual ion particles to parts per billion or even parts per trillion, and provide ultrapure water production with a specific resistance of 10 to 18 MΩ * cm in any required industrial volume.
But outstanding water quality is often not the only goal. The importance of recycling, returning water or steam is constantly growing, especially in industries such as power generation and the manufacture of semiconductors, where a huge amount of clean water is required. The concentrate of EDI modules contains pollutants in an amount 5-20 times higher than in feed water, but it is still beneficial to return it to the reverse osmosis water system pretreatment and use it again. The recirculation option increases the overall efficiency of water consumption and thus minimizes overall energy consumption.
You can always turn to our leading engineers and discuss, find a solution to your technical problems.